Resume Editing Services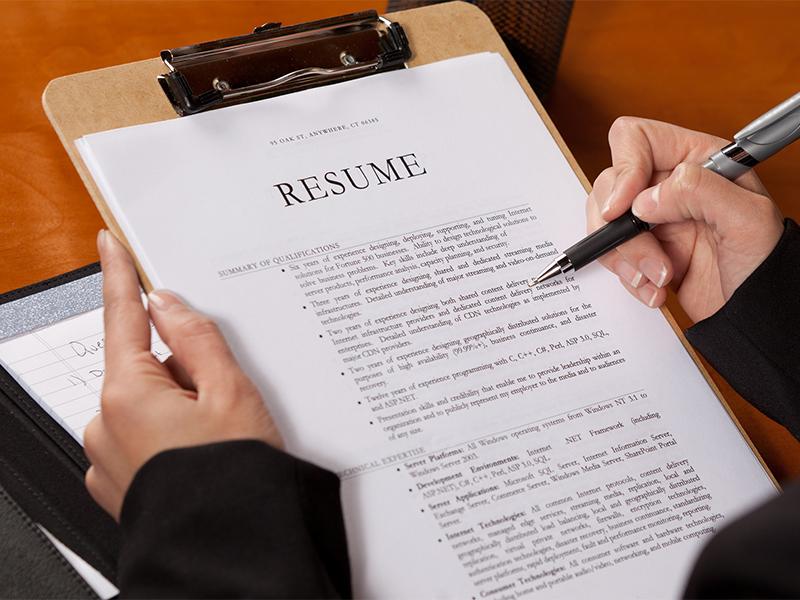 Tweet
If you are looking for professional resume editing services, you are in the right place. Our editing specialists have enormous experiences in all kinds of resume editing and writing. Formatting, proofreading, checking grammar and style, and so on – these are just some of the editing services we offer to help you improve your resume writing skills. We take every task seriously to make sure you receive a perfect product. So, if you need someone to review your resume and update or edit it, feel free to request our resume editing services. As we are working on your resume, we will also provide you with helpful tips to improve your resume writing skills.
We will also provide a full explanation as to why certain changes have been made and how they will improve your professional image. Place your order now on professional resume writing service, and we will call you back within 24 hours. Our qualified editors will review and analyze your resume to make it perfect. You will never face any career troubles if you choose our professional editing services. We are here to increase your chances of getting a superior job!
It is not a secret. First, we analyze the resume you provide, trying to understand if the contents match its purpose. We also evaluate the style and structure of your document. Then, we review the wording used in your resume to see if it needs improvement. We identify spelling and grammar errors to have them corrected. In addition, we see if the layout of your resume is suitable and effective. Our company uses a set of easy-to-understand criteria to rank the overall effectiveness of your document. When we are done with the initial analysis, we will provide you with recommendations to improve your resume and increase your employment chances. We will make up a comprehensive list of our responses so that you could follow it and improve your resume before submitting it for a review.
When you are done with the recommended improvements, feel free to use our professional resume editing services once again. We will see if you have followed our recommendations and how successful you have been improving your paper. Our editors will be thorough and considerate when working with your resume. We guarantee that the finished product will make you stand out from the crowd of other job applicants. It will be unique and impressive. It will inspire your potential employer to invite you for an interview. In everything we do, we follow the latest standards and requirements.
So, rest assured that your resume will look modern and easy to read. Your professionally formatted resume will give you a strong competitive edge so that you do not have to worry about your future career. We will keep in touch with you, so you can always provide your recommendations and advice to make your resume perfect. In the end, you receive a well-balanced, optimally adjusted resume that meets your professional and career needs. In case you need help, feel free to ask our resume editors for quality help. We are here 24/7. Be ready to excel in your new job with the help of our professionally edited resume! We will do everything possible to make you a success!
Basic Prices
&
Free features
of Resume Editing Services
Features
FREE Interview Tips
FREE Revisions
FREE 24/7 Support
100% Confidential
Resume Editing Service: Order Now
You truly deserve a resume that paves the way towards your dream job, so our resume editing service is just the thing for you to get a perfect resume. As you know, the way in which your resume is written is decisive for your ultimate success in getting a certain position. Moreover, the expression, "First impression matter" is just about this case with resumes. These are the reasons you should worry about the overall quality of how your resume is written and what it looks like. A perfectly tailored resume makes a difference between whether you get the desired position or are ignored.
As such, if you choose to cooperate with us, you let our company's expert writers and editors work on your resume to ensure you get the desired position and are landed a chance for the interview. When you order professional resume editing from EliteWritings.com, be sure that your resume will be given a competitive advantage and you have all chances to be on the top of the interviewees' list. When our expert writers work on your resume, they ensure that all your strengths and professional skills are presented in the best perspective.
I didn't know how to write a resume before, so I decided to find someone to help me with it. I am pleased with the resume you sent me and I will surely recommend your services to my friends. Sarah
It was challenging for me to write a paper that talks about myself. Resume writing is not for me and your writers made me look competent in the resume you sent me. Josh
What surprised me the most is your careful and friendly attitude to customers. Your online support agents explained me everything in detail and I decided to purchase a resume from you. Daniel
It was challenging for me to write a paper that talks about myself. Resume writing is not for me and your writers made me look competent in the resume you sent me. Josh
You are real experts in online business. I had to write a cover letter and I had no idea what to include in the paper. You did everything for me and I got the job!!!Owen
What to Expect from the Best Resume Editing Service?
When you seek professional writing and editing help from our best resume editing service, you will receive a document impeccable both in content and quality of writing. As such, your resume will be free from grammatical, spelling, and punctuation errors as well as typos. With the help of our expert editor, you will be given the best tips and strategies on how to ensure logical coherence and smooth flow of ideas. You will also learn how to make your resume readable, comprehensible, and visually attractive. With the help of the track changes option, you will clearly see what changes and corrections your assigned editor has made in your resume. Additionally, when you ask one of our editors to edit a resume, you will also receive recommendations and specific tactics on how to improve your paper and be able to better convey your strengths as well as soft and hard skills you can boast of.
Professional Resume Editing Service: Fast and Easy Help from Experts
Professional resume editing service EliteWritings has a great reputation for providing well-edited resumes, CVs and cover letters. Apart from effective resume editing, the company also specializes in editing job applications for students. The company's editors have solid skills in grammar and punctuation principles to make sure that the resumes are perfect in quality and content. Even minor flaws can be deteriorating for the overall impression that one gets from your resume. As such, it is vital that a student resume editing is performed at the highest and most professional level. When it comes to getting a job or being rejected, the quality of the resume as well as its grammar, spelling, and punctuation are decisive for the overall success. Our company is the best to trust your resume to.
Our writers can complete a resume for you in as little as 8 hours. Moreover, our service is available round-the-clock, so you can order editing and proofreading services either in daytime or nighttime – whatever suits you best. You might be interested to know that we have different services depending on the resume writing requirements. For a really good resume editing service, we recommend you to hire two editors who will work on your resume. As such, top-notch quality will be assured. With such an approach, there will be more chances that the essay is impeccable in quality and is free from mistakes.
Resume Edit Service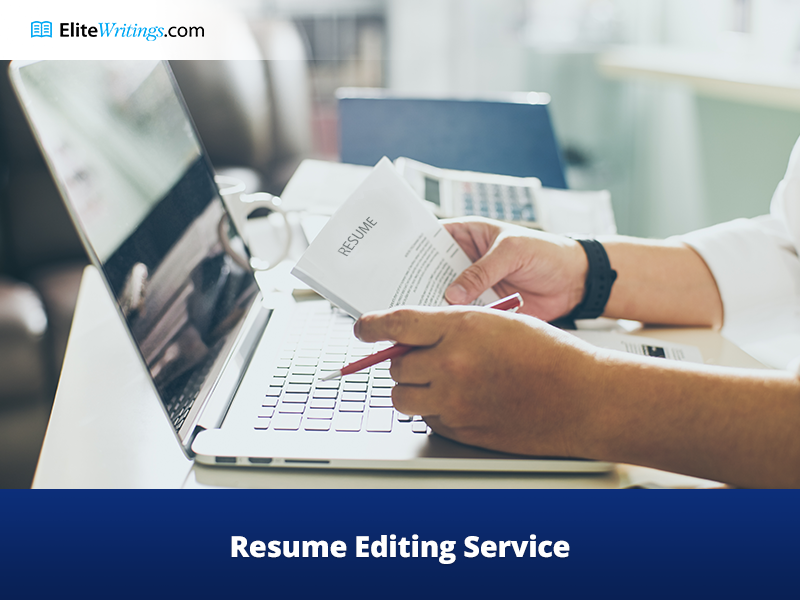 Our resume edit service will ensure that your resume works for you while you answer phone calls from recruiters and HR managers and prepare for job interviews. If you still do not believe it is possible, just ask our editors, "Edit my resume for me" and see that it is possible. With the help of our academic resume editing service, you will definitely impress your recruiters.
Besides, our MBA resume editing service will help you be more confident in effectively presenting your qualifications, professional skills, and other strengths that can help you get the desired position. Do not let a small mistake ruin your reputation and lose the career of your dreams.
How Do We Edit Resume for You?
We proofread and edit the resume by paying attention to every single aspect. Our editors carefully work and improve the content, organization, structure, and presentation of the main points on the resume. Further, they focus on improving grammar, spelling, punctuation, and sentence structures. With the help of our MBA resume editing service, you will increase your chances for a job interview. Our resume editors check whether your skills, education background, and career goals fit into the company's policies and expectations. Moreover, with the help of our MBA application resume editing, you will see what it is like to have a unique style of your resume or CV. Our editors take the custom-oriented approach, which ensures that the document is carefully tailored according to your needs and job requirements. With the unique style of your resume writing, you can be sure that your resume will be appealing to recruiters and HR managers.
Our editors care much about formatting as well. When you order resume editing from us, make sure that your resume, CV, cover letter or job application, be sure that these documents will be formatted according to the latest standards.
When you seek professional editing help from Elite Writings, you can choose an editor on your own according to your job requirements or specifications. When you order editing service, you get professional help from expert editors who hold a Master's or a Ph.D. level degree. Our editors edit and proofread more than a thousand resumes each year, which means that the company is popular among customers from all over the world. With the help of our company, a lot of job applicants have been able to find a job of their dream. We do not hire freelance editors and writers who lack the required qualifications for resume writing – instead, all of our writers and editors are experienced and well qualified.
We have a large team of editors who specialize in writing resumes for the following fields and areas of expertise:
Business and management;
Sales and accounting;
Marketing and advertisement;
IT sphere and computer science;
Business administration;
Mass media;
Education.
Whatever your dream job is, we will be glad to help you apply for the desired position. Just visit our website and order from us without any hesitation.