Custom Grant Proposal Writers for Hire
Tweet
Grant proposals are a category of business writing, and if the latter is not your cup of tea, it is high time to start seeking custom grant proposal writers for hire. People create grant proposals when they expect to find sponsorship for their research or projects. Saying that the stakes are high when it comes to research proposal writing is not an exaggeration because the future of the whole project depends on how well a researcher manages to explain its purpose and justify its significance, relevance, and feasibility.
On top of that, a grant seeker also has to demonstrate the potential benefits of the research to the funding organization, i.e. persuade the readers that funding this project will bring advantages. When written properly, a grant proposal opens up numerous opportunities. But what to do if you have a clear vision of your future research and your ideas are just brilliant but you lack the skills to adequately describe all the benefits on paper? Does this mean that your research is doomed? Of course not! In this case, you can hire a professional grant proposal writer.
What Is Grant Proposal
If you have encountered this document for the first time and do not know the answer to the question "what is grant proposal?" be prepared for a backlog of work ahead. Alternatively, you can address a reliable custom grant proposal provider, like EliteWritings.com, and pass the writing challenge to grant proposal experts.
You will not have to figure out the components of a grant proposal and delve into business writing techniques because our experienced writers will do this for you. The best thing is that our cooperation will remain fully confidential.
Elements of a Grant Proposal
The main elements of a grant proposal are as follows:
Abstract
Like an abstract of a research paper, it has to provide a succinct overview of the whole paper. Specify the focus of the paper, the underlying aims of the projects, its objectives, and so on. Your proposal is like a business plan, so try to make it look professional.
The Statement of Need
This part of the paper is comparable to a thesis statement of a regular essay. This has to be a clear and focused sentence, which introduces the readers to the main problem as well as the situation requiring financial support. For obvious reasons, the statement must be persuasive.
Project Description
This section includes a detailed description of your project. The description must be convincing in order to prove to the committee that your project is worth the resources.
Project Goals
They have to be specific and straight to the point. Moreover, the goals must be specific, measurable, attainable, testable, realistic, and timely. It is helpful to focus both on the long-term and short-term goals in your paper.
Client's Review
"Cool service! My essay was very good! Lots of stylistic devices and illustrative examples - everything was included as I asked! Recommend trying!"
Henry H. reviewed EliteWritings on June 23, 2017, via SiteJabberClick to see the original review on an external website.
Action Plan
This is where you include a step-by-step description of the actions your organization will take to implement the project. This section also has to be specific and should not leave the readers perplexed about how the goals will be achieved practically.
Evolution
Choose an appropriate measurement and evaluation tool and do not forget to say who will be responsible for the evaluation.
Budget
As mentioned before, a grant proposal is almost like a business plan and this is especially true when it comes to the budget. There is no place for uncertainties. The more specific the budget, the higher will be the chances of winning the grant.
Find a Grant Proposal Writer at EliteWritings
If you are gravitating towards hiring a professional grant proposal writer, you are about to make a smart choice. Many organizations across the country and the world apply for grants. Take, for example, non-profit organizations or charities, which manage to implement the majority of their projects thanks to the support of donors. At the same time, not everyone applying for a grant will get it. Although there are many corporations and different business organizations that are ready to offer financial aid to grant seekers, they will choose viable, useful, and well-thought-out projects, which all comes down to writing grant proposals that win. We offer a quality grant proposal writing service that will help you win the competition and kick-start the project.
If you are familiar with challenges that accompany business writing, such as grant proposals, you are probably willing to buy a grant proposal online. The decision is understandable and reasonable because it is always better to ask for qualified assistance than spend hours on a task you do not like or do not know how to complete only to realize that you will not get the desired result. When you end up in a situation like this, think about our custom paper provider. You can visit our website, say, "Do my grant proposal", and get the completed paper right on time! Even if you want to fill out the application on your own, our writers can provide you with a personalized template that will serve as a step-by-step plan for writing for you.
Try our VIP service
Benefits at a very reasonable price.
Limited time offer - orderour VIP package with a 20% discount right now!
Become VIP
The Benefits You Derive When You Buy Grant Proposal Online
People choose to buy a grant proposal online because the decision brings numerous benefits. Of course, you might be tempted by a supposedly easier solution: downloading a free template that can be found online. Indeed, there are plenty of samples and pre-written proposals that are readily available and do not have to be paid for. Why buy a custom grant proposal then? The answer is obvious: when you find professional proposal writers for hire, you can entrust even the most important paper to them because you can be certain that they will follow your requirements and will provide you with a quality product. Specifically, if you contact EliteWritings.com and order a paper there, you can confidently believe that your grant proposal will meet the following basic criteria:
the content will be fully authentic and adapted to your goals;
the paper will be based on the recent research and credible information;
the formatting style will follow the recent guidelines;
the topic will be covered in full.
How to Write a Grant Proposal? Ask Our Grant Writing Specialists
It is true that people producing fresh and creative ideas rule the world but success goes beyond the mere production of ideas and involves organization and discipline, which is why you might require help from experienced grant writing specialists. An effective grant proposal is a combination of a new approach to an existing issue with strategic and analytical thinking that will be used to achieve the goal. That is why a person working on a grant proposal should be prepared to go through an extensive trials-and-errors period. Moreover, they should know how to justify this process in writing. Choosing the right words to explain the significance of the project and knowing how to provide a clear yet convincing explanation of the implementation procedure calls for patience, dedication, and, above all, strong writing skills and in-depth knowledge of grant proposal writing conventions. If you do not believe you got them, it is high time to start looking for grant writing specialists.
The Secrets of Writing Grant Proposals That Win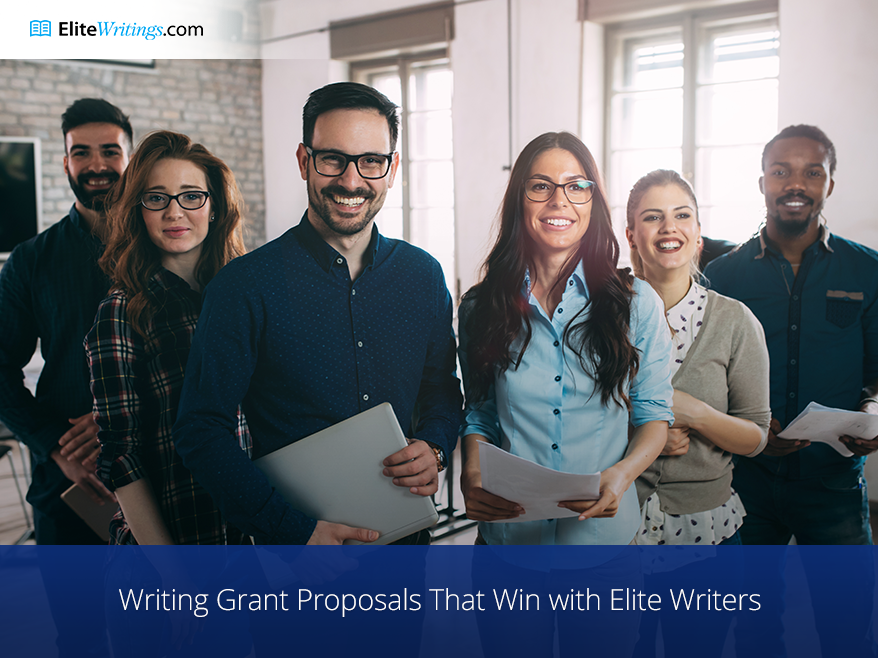 Writing grant proposals that win entails knowing the subtleties of grant proposal writing and understanding which grant proposal type you need.
The types of projects that require funding include:
Projects of Non-profit Organizations
In this case, an author should explain how the project will benefit their community and explain why the outcome is worth the effort and financial resources. In other words, provide a straightforward explanation of where the money will go.
Small Business Projects
Small business grant proposals should look like a business plan. This is a helpful tip because you can find a tutorial on business plan writing and use it to create your business proposal. For example, include the analysis of the environment and proof that your company will not fail (strength and threats). Finally, be sure to explain that the project will start bringing profits after some time (be specific here), which means that regular funding is not required.
Educational Projects
Sometimes people need financial aid when they seek educational improvement. Educational grant proposals are especially common among students who, for example, come from a family that cannot afford a college education, yet they have what it takes to excel academically. If you are planning to write a grant like this, make sure you explain what benefits the granting organization will gain by giving you the money.
Whatever the type of your grant proposal, it should feature a detailed explanation of how the receiving organization will use the money. This explanation must be as detailed as possible. Each year, different business organizations award grant writers funding, which helps implement hundreds of worthy projects. You can become one of the lucky grant seekers if you request help from our professional grant writing experts.
Grant Proposal Writing Service from Experts
Why do people seek help from a professional grant proposal writing service and when should you start doing this? People prefer using professional assistance when the project is important to them and they do not want to jeopardize it. You should start looking for a suitable custom writing service when you are not confident in your own skills and you are not absolutely sure that you will produce a winning result working on your own.
For example, when your creativity is not stimulated and you cannot come up with a good idea for your project. It is also reasonable to consult grant proposal writers when you feel that your explanation of how the budget will be spent is not persuasive. Likewise, it is prudent to request expert help when you are not familiar with the structure of a grant proposal.
Having no experience in grant proposal writing does not mean that you will fail; however, the chances of winning lessen because you are likely to experience challenges and make mistakes in the content, elements of a grant proposal, its structure, formatting, etc.
Buy a Grant Proposal from EliteWritings.com
Receiving a professionally written grant proposal from EliteWritings.com is frighteningly easy. Just submit your order on our website and our writers will provide you with professional writing assistance. They can help you with a paper on virtually any topic and your paper will be ready on time no matter the urgency!
By becoming our client, you will avoid the following challenges:
Vague Ideas
It is a common mistake among inexperienced grant proposal writers. If you realize that your writing lacks the clarity of thoughts, do not hesitate to contact our experts, who will help you organize your writing and provide a strong argumentation of your future project.
Lack of Time
Time is what students crave the most but what they use the worst. If you realize that you have no time for proper analysis of the market, let the experts help you. Our writers are used to working under pressure, so they will perform the required analysis even if the deadline is pressing. Note that EliteWritings.com takes orders even if the deadline is only 3-4 hours.
Now I know that your writers are indeed experts because they know how to carry out research just like my teachers expect me to do. I am thankful to your writers and online agents who always reply to my concerns. Jessica
I used a couple of other services, who only spoiled my grades. EliteWritings.com was like a savior in my life and I gradually improved my reputation. Josh
English writing is definitely not my strongest point and I always make silly mistakes. I surfed the web and found your company. You sent me a good paper with impressive ideas. I really appreciate your help. Anthony
Your writers are really competent and hard working. I've purchased a difficult research project and to my surprise – I got excellent! Thanks! Addison
Wonderful writing service and friendly writers who always communicate with customers! I realized that your company can be trusted when you sent me good papers within short deadlines. James
My writer forgot about a part of requirements, but I requested revision and he adjusted the needed part. I got the revised paper shortly and the paper looked just like I was expecting. Lily
I was afraid to buy midterm coursework from you, but I did not know how to deal with my topic in computer sciences. I got 93% for the project and was ecstatic. I will surely use your services more. Logan
I've bought some essays from you and you guys are wonderful! Your writers sent me amazing essays! Mia
I did not know about your company and my friend recommended me to order essays from you. Your writer sent me my essays on time and I did not find any mistakes! Abigail
I always forget how to use different citation styles and formatting remains challenging for me. I found out that your company offers cheap formatting services and I sent you the paper. Since that time, my teacher never deducts points for formatting mistakes. Alexander
I am a horrible writer and I would rather pass several tests than work on essays. I found your service and you guys are great! You offered me good discounts and I am pleased to get affordable papers. Cooperation with you is worth it. Zoe
Quick and good service! Olivia
I am so bad in writing that I thought I would fail every class. One of my friends told me to use your services and I could not believe my eyes. Your writers managed to improve my academic records very fast! Thank you. Samantha
I am so lucky! Your essays improved my reputation. Taylor
Superficial Knowledge of the Topic
It goes without saying that as an author of a grant proposal, you should establish credibility by proving to the committee that you are well-versed in that field; otherwise, your grant proposal stands a fat chance of winning. If you want your grant proposal to convince, leave the task of writing to our experts.
If you are still hesitant about the success of your proposal, remember that even a perfectly written proposal might be rejected. Nevertheless, this does not mean that you should leave everything to the chance. Rely on EliteWritings.com if you want an expert to polish your grant proposal to perfection or if you need a custom-made example to kick-start your own writing process. Contact EliteWritings.com now and we will deliver an excellent paper.